The Solution: Clean Foam
Several years ago, a team of industry innovators, fueled by a desire to help clean up the planet, created Blumaka Clean Foam.  Clean Foam is the result of a patented process that addresses both the materials and manufacturing problems.  Blumaka upcycles foam waste from the footwear industry and re-manufactures it in a radically cleaner process.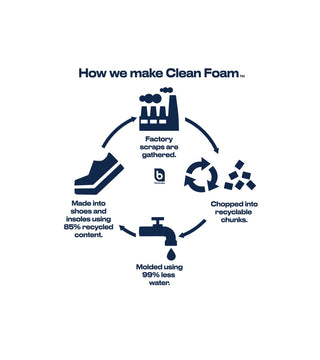 Clean Foam What is it?
The Blumaka Clean Foam process begins with gathering waste and scrap from footwear factories. From there, we grind the waste into small pellets.  The pellets are used in virtually any foam category, from athletic shoes with world class midsole cushioning, to sandals, insoles and even yoga mats. A Blumaka midsole or insole uses up to 85% recycled content by volume.
Blumaka also uses a cleaner manufacturing process. We don't use heating ovens, silicone mold releases, or steel molds. We also use 4 grams of water per pair, a 99% reduction compared to traditional manufacturing. We believe it's the cleanest foam manufacturing process on Earth.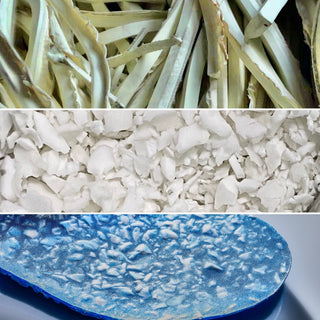 How Clean is Clean Foam?
Blumaka's proprietary manufacturing process results in a 65% reduction in greenhouse gasses compared to traditional Polyurethane (PU) and a 26% reduction compared to traditional Ethylene-vinyl acetate (EVA), which are the most common footwear foams. The Blumaka manufacturing process has 4 times less environmental impact than the traditional process. Read our Lifecycle Assessment for more details.