We Save Thousands of Gallons of Water
Traditional manufacturing uses nearly a gallon of water per pair. Blumaka only uses 4 grams of water per pair (~99% less). That's enough water savings to supply 200 million people with fresh drinking water for a year.
We Are Thoughtfully Unpackaged
You won't find your insoles wrapped in extra packaging. Sleeves, tags, inserts, and return labels all contribute to waste. We're being thoughtful about what we do because protecting the planet starts with companies like us.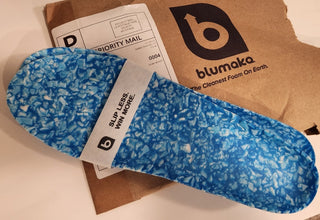 Our Life-Cycle Assessment
We worked with Sustainability expert, Copeland Consultancy LLC, to understand the impacts of our business. The Blumaka manufacturing process has 4 times less environmental impact than the traditional process. Read our LCA for more details.